MANAMA: Formula One driver Romain Grosjean overcame Sunday's horrendous Bahrain Grand Prix accident, where his hose car crashed into a metal barrier and split in two, according to a news conference on Friday. This is, in their own words, how they escaped fireball.
"It wasn't 28 seconds for me, it felt like a minute 30. When the car came to a stop, I opened my eyes. I unplugged my seatbelt. The next day I did what I did with the steering wheel. The steering wheel is gone between your legs and the column and everything is broken down and down.
"I think something is touching my head, so I just sit in the car and my first thought is, 'I'm going to wait, I'm upside down in front of the wall so I'll wait until someone comes in and help.'
"Then I look to the right and to the left and I look to the left. I see the fire. So I think, 'I don't really have time to wait here.' Then I thought of Nicki Lauda (who suffered severe burns in the 1976 accident), his accident.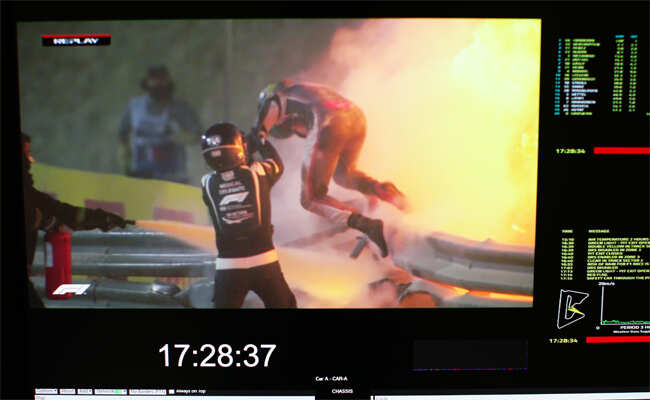 Grosjean is depicted on screen escaping his accident. (Getty Images)
"I thought it couldn't end like this. It can't be my last race. I can't finish this way. There is no way. So I try again and I get stuck. So I go back and then less pleasant moment. My body starts to relax. I'm at peace with myself and I'm dying. I ask myself the question: 'Is it burning my shoe or leg or hand, it's painful, where does it start?'.
"And then I think about my kids. I say, 'No, they can't lose their father today.' So I don't know why but I try to turn my helmet on the left hand and go up and turn my shoulder. Just staying in place but my foot gets out of the shoe and then I do it again and my shoulders (halo) go by and I know 'I'm going out.
"I got both hands on fire at the time. My gloves are usually red, so I'm going to change the color, especially the left side, and start to melt and go full black. I feel like my hands are on fire. And I think Ian (Roberts, an FIA doctor) is pulling on my overalls, so I know I'm not on my own anymore and there's someone with me. "
After the extraction and immediate inspection in the medical car, Grosjean walked to the ambulance. He insisted: "It's important to have some footage of me walking towards the ambulance. Even if I walk out of the fire, I need to send another strong message that I'm OK."
.