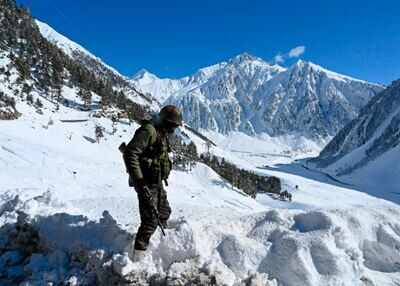 Indian Army Soldier Stands On Snow-covered Road After Blizzard At Jojila Mountain Pass (AFP)
New Delhi: Chinese soldiers are unable to withstand the harsh winters of the eastern Ladakh region and are being rotated in forward positions on a daily basis, but Indian troops remain in one place for longer.
"Our soldiers deployed in posts along the line of de facto control line remain in their positions for longer than the Chinese. The harsh winter and exposure to such temperatures are forcing the Chinese to divert their troops on a daily basis," a government source told ANI.
Sources said that the Indian team has an edge over their Chinese counterparts in dealing with the weather, as a large number of people have already performed duty in the Ladakh region, including the Siachen Glacier or other high points.
The winter effect is often seen at strategic heights, where the Chinese have deployed their troops closer to Indian positions. He said that while Indian soldiers were there, the Chinese could be seen diverting troops from there every day.
China acted aggressively in April-May and pushed around 60,000 troops into the Indian frontier in the eastern Ladakh sector, along with tanks and other heavy weapons to encroach into Indian territory.
The Indian side responded and deployed an almost equal number of soldiers to prevent the Chinese from further misconduct.
Meanwhile, the Chinese and Indian sides have been interacting with each other and have held eight rounds of talks at the Corps Commander level.
On June 15, heavy fighting broke out between the two sides, resulting in the deaths of 20 Indian soldiers and Chinese soldiers. India wants the Chinese army to retreat from positions such as the Finger area before it is detached on the south bank of Lake Pangong.
FacebookTwitterLinkedInEmail
.